The Boardroom's private setting on our second floor is the ideal place to hold your "Off-Site" meeting.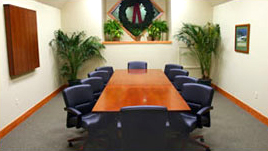 With ten executive leather chairs and a twelve-foot boardroom table this room is designed to host small meetings. A few of the amenities available to make your meeting a success include a high-speed internet connection and a dedicated conference room speakerphoner. Also available to accommodate your administrative needs are a high-speed laser printer and copier in the office adjacent to the boardroom.
For additional information, or to schedule an event in the Boardroom, please contact Event Coordinator, Reghan Lennox at 301.371.0000 extension 150.