Maryland National Golf Club is hosting Brunch with Santa on December 11 with seating at 11 AM and 2 PM!
This is a reservation only event, so please call Alyssa Eshleman at 301-371-0000 ext. 102 or email her at AlyssaE@marylandnational.com today to book your reservation.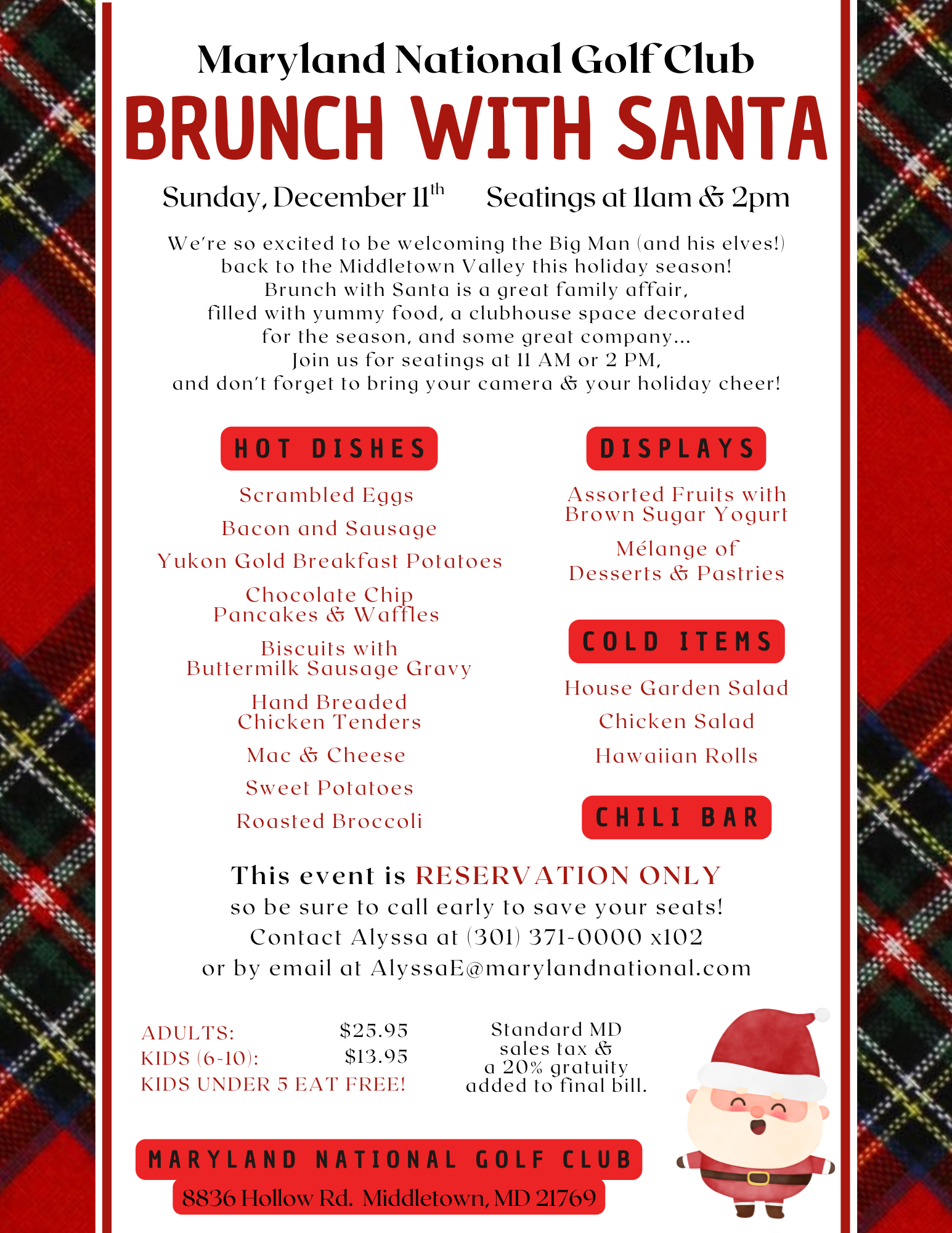 ---
Effective 10/17/22, Schroyer's Tavern hours will be open 8am – 8pm, seven days a week. Our most up-to-date menus can always be found on our Schroyer's Tavern page of this website, or on Facebook!
---
Maryland National is celebrating our 20 year anniversary on June 29th! We are so appreciative of this town and of our amazing guests, and we're honored to have made it to this landmark. We look forward to many more years and many more memories together! If you have the opportunity, check out our press release  for more information about who we are and how we got here!
---
Effective 2/22/22, membership at Maryland National Golf Club is CAPPED. Please contact Alyssa Eshleman at 301-371-0000 x102 or by email at AlyssaE@marylandnational.com with interest in being placed on our membership wait list.
---
UPDATE (5/15/21):  The time has finally come — COVID restrictions are gone, masks are now optional, and things can start to feel more 'normal' again! We welcome the changes, but also ask our guests to be respectful of the decisions of others. See everyone soon!
---
Maryland National Golf Club was ranked #4 of GolfAdvisor's Top Courses in Maryland in 2019! We thank everyone who's rated us on GolfAdvisor,
and we appreciate your positive feedback. Our maintenance crew, golf professionals, and Tavern staff all work very hard to provide each guest with a positive and memorable experience, and we look forward to celebrating this accolade with each of you in the year ahead!
---
Our social media is a great way to stay up-to-date on Tavern and Golf Course events. Follow us on Twitter and Instagram, Like us on Facebook, and ask about our emailing list!