The clubhouse at Maryland National Golf Club is designed to accommodate various group and business needs. Two individually distinct meeting areas, with room for up to forty guests, are available to accommodate private functions. Why not combine a morning meeting with a team building golf outing in the afternoon? Let Maryland National Golf Club be your host for the day.
The Boardroom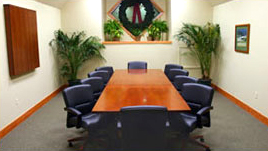 The Boardroom's private setting on our second floor is the ideal place to hold your "Off-Site" meeting. With ten executive leather chairs and a twelve-foot boardroom table this room is designed to host small meetings. A few of the amenities available to make your meeting a success include a high-speed internet connection and a dedicated conference room speakerphone. Also available to accommodate your administrative needs are a high-speed laser printer and copier in the office adjacent to the boardroom.
The South Mountain Room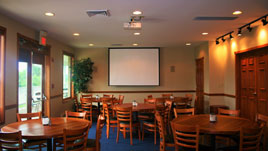 On our main level, The South Mountain Room will accommodate groups up to forty in several different room formats. Complete with audio/visual equipment and a comprehensive food & beverage selection, this space is perfect for regional and district meetings, as well as training seminars.
The Overlook Room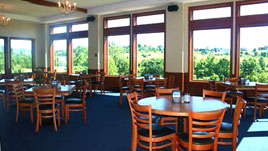 On our main level, the Overlook Room can hold as many as 50 guests, with many different layouts to best suit your group and needs. With a private entrance and personalized service bar, the space is perfect to host a private event with full food and beverage options. Lined with windows, this space is a great retreat for you and your group to enjoy an off-site meeting experience.
Click Here for our 2023 Corporate Meeting Menu.
Audio Visual Equipment
Overhead Projector 
Flip Chart Stand with Pad & Markers 
Telephone for Conference Call
Telephone line for Modems 
Laser Pointer 
Photocopies 
Faxes
For more information, or to schedule an event in the South Mountain Room, please contact Events Coordinator, Reghan Lennox at 301.371.0000 extension 150.